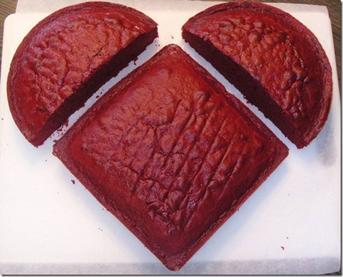 This is the first year I am not sharing Valentine's Day as a teacher with a class. I always made a heart-shaped cake using a square and a circle, a bit of a geometry lesson. I usually asked the students to write a five paragraph GED essay about their ideal Valentine with interesting results.
I've been purging old journals and that is a topic for another blog. I often recorded the words on cards Jim gave me or the meal I made for the day, so it must be important to me even if I think I am not a romantic and am somewhat cynical about a commercially inspired holiday.
Tonight we are having a spaghetti dinner, one of Jim's favorite meals. I'll buy a better than our usual $6.99 bottle of wine and make some beer bread. If I am ambitious, I'll make banket--another favorite for Jim. I doubt we'll exchange cards. We might exchange written messages. I already let Jim know that I bought him a gift and that means the pressure is on him! My gift is an impulsive one I bought at the Jockey outlet store yesterday--I could add a photo. I doubt Jim will pose for it!
Jim is my most faithful blog reader--maybe because he is the only one whose email I added to the site. So...Happy Valentine's Day, Jim. I love you!
How do you celebrate Valentine's Day? Or do you prefer ignoring it? (My daughter often ends her blogs with a question. Is that is how I will get some comments?)